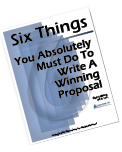 Free eBook Bonus:
Upon submission of the form below you'll also receive Dan's FREE eBook that contains powerfull tips to help you craft stronger and more persuasive proposals!
Increase Your Win Rates with a Master Proposal Evaluation
With so much riding on your proposal, don't you think it makes sense to have a proposal professional look at it?
I'm Dan Safford. I have made a career helping companies improve their win rates.
When Boeing, ATK, Oracle, IBM and many other firms need expert advice, I'm the guy they call.
And do you want to know a secret? The very same techniques I give to billion-dollar companies work for businesses of every size.
Now you can get those same winning techniques at an affordable price.
How? In the past year, I have passed on my knowledge and expertise to a small core of dedicated proposal professionals.
These folks are ready to review your next proposal. You will be amazed at what an expert critique can do to increase a proposal's power and persuasiveness.
For an affordable price, you will receive an analysis of three areas critical to a proposal's success — Compliance, Persuasiveness, and Readability.
This focus on CPR will breathe life not only into this proposal, but every proposal you ever write, once you apply the lessons you learn from us.
If you are at any stage of preparing your proposal — from wondering what the outline should look like to finalizing the proposal the week before it's due — we can give you the advantage you need.
Please take a moment to complete the form below, and we will get back to you within 24 hours and find out more about what you need. Go ahead.